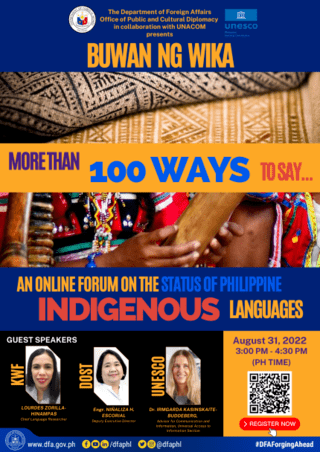 In celebration of the ongoing International Decade of Indigenous Languages (IDIL) 2022-2032 and the Buwan ng Wikang Pambansa in August, the Department of Foreign Affairs-Office of Public and Cultural Diplomacy (DFA-OPCD) and the UNESCO National Commission of the Philippines (UNACOM) co-organized a project entitled, "More than 100 Ways say…": An Online Forum on the Status of Philippine Indigenous Languages on 31 August 2022. The online forum focused on the discussions about the state of indigenous languages in the Philippines as well as the identification of possible tracks to contribute to preserving and avoiding the extinction of indigenous languages and exchange of local and multilateral perspectives on current initiatives and programs to preserve indigenous languages in the Philippines. 
DFA officials and esteemed panelists from UNESCO, Komisyon sa Wikang Filipino (KWF), the Department of Science and Technology-Philippine Council for Industry, Energy and Emerging Technology Research and Development (DOST-PCIEERD) shared and highlighted the importance of addressing language endangerment as an emerging global issue on language. These experts discussed their respective advocacies to preserve and revitalize linguistic diversity and multilingualism at the local and global levels. Several initiatives and language programmes were featured such as the Dokumentasyong Pangwika, Bahay-Wika and Master-Apprentice Language Learning Program (MALLP), and Pagbuo ng Ortograpiya ng mga Wika ng Pilipinas from KWF, ICT- and AI-powered programmes such as Marayum, MinNa, Multi-lingual Chatbot, Senti AI, and DANAS of DOST-PCIEERD, and UNESCO's implementation of the Global Pllan of Action for IDIL 2022-2032.
An online forum was held afterwards to provide participants an opportunity to explore and ask further on the speakers' presentations and discussions. The exchange among speakers and participants explored varying queries and concerns related to indigenous languages,  including the discussion of the roles of media, educators, community and youth organizations such as NCBUCP and ASPNet, and other stakeholders to address the emerging threats to indigenous languages; the use of technology to preserve languages; the importance of using the mother tongue in the basic education; and the call for collaborative participation of the society for sustainable, progressive, and inclusive efforts to the preservation, revitalization, and promotion of indigenous languages.
The forum may be accessed at the DFA's official YouTube channel: https://www.youtube.com/watch?v=ICxH6DnfPPk, and Facebook page: https://fb.watch/ffNimgLud2/.