Message of Secretary General Lila Ramos Shahani on the Crafting of the Philippine Plan on the Safety of Journalists: A Multi-stakeholder Consultation last 07 November 2018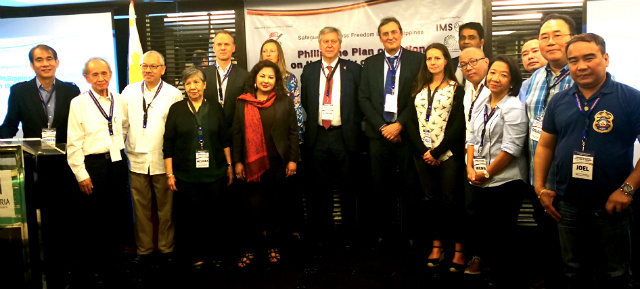 President Mon Tuazon of AIJC; Undersecretary Jose Joel Sy Egco of PTFoMS; Undersecretary Markk Perete of DOJ; Undersecretary Severo Catura of the Presidential Human Rights Committee; Ambassador Frank Jessen of the European Union; Ambassador Jan Top Christensen of Denmark; Dr. Ming Kuok Lim of UNESCO Jakarta; Chair Nonoy Espina of NUJP; Director Mel Quintos de Jesus of CMFR; Mr. Lars Bestle of International Media Support; Mr. Red Batario, Ms. Anne Lourdes Lopez; the entire Journalist Safety Advisory Group (composed of CCJD, CMFR, KBP, NUJP, PPI, AIJC and IMS); journalists, friends, ladies and gentlemen:
Let me be frank with you: these are perilous times. Rising populism, xenophobia and violence the world over characterize this fraught historical moment we share. And journalists have not been spared: on the last day of October–the month in which Saudi journalist Jamal Khashoggi was presumed to have been murdered by state agents inside the Saudi Arabian consulate in Istanbul–the Committee to Protect Journalists (CPJ) released its annual Global Impunity Index. Even though it showed the Philippines to now be the fifth most dangerous country for journalists, that was still an improvement over last year's rating, which placed us as the third most dangerous. Since Communication and Information is one of UNESCO's principal mandates, just as UNESCO Director General Audrey Azoulay roundly condemned the Khashoggi assassination, so too, as Secretary General of UNESCO National Commission of the Philippines—and as a Filipino woman—must I take a stance with you all in support of press freedom, and against impunity and the endangerment of journalists.
Revisiting this year's CPJ ratings reveals that we are substantially different from the four countries considered more dangerous than the Philippines. For over a decade, Somalia has intermittently been without an effective government, while Syria's government has seen the country become the sight of a complex proxy war leading to a flood of refugees all over the world. As for Iraq, many of our younger journalists may not even remember a time when that country was not engaged in a war or set of insurgencies. And, finally, South Sudan is one of the world's newest countries, and has been strife-torn throughout its struggles against genocide and for autonomy and independence—continuing on through rebellion and civil war.
These four countries, subject to armed conflict and with governments defending themselves in civil war, are understandably dangerous places for journalists to work. But what about the Philippines? What makes journalism such a dangerous profession in a country like ours, with our long history of relatively stable–if not always democratic–governance, facing a few comparatively minor attempts at sustained insurrection? Is it not impunity itself, as our justice system remains perpetually clogged with pending cases? Indeed, impunity arguably remains the greatest challenge in fighting for a free and pluralist media landscape in the Philippines.
The Ampatuan Massacre, of course, is what propelled us to the top of the charts, and continues to keep us there. Today, more than 100 of the accused actors and conspirators remain on trial—nine full years, come the 23rd of this month—after the killings in Maguindanao took place. But the massacre, as black a spot on the record as it is, cannot be allowed to blot out the numerous unprosecuted or unresolved cases of violence against individual journalists. Tragically, by 2015, the number of individual journalists subsequently killed surpassed the total deaths from the 2013 Maguindanao Massacre itself (CMFR). Additionally, mmany journalists (including photojournalists) also claim to have suffered severe psycho-social trauma from the government's recent war on drugs. Impunity endangers us all, but perhaps together, we all can seek, find and implement effective solutions to improve journalist safety.
As I once mentioned in a previous speech for AIJC, Filipino journalism has had a long history of struggle. "Free press" in the Philippine tradition has ranged from La Solidaridad through El Renacimiento / Muling Pagsilang; through post-war newspapers like the Roces family's Manila Times and its fellows, which Marcos found necessary to shut down in aid of one-man rule. The We Forum, the original Philippine Daily Inquirer and others, effecting a free press breakout time after time. Today's events, both global and local, can certainly be seen as favoring yet another attempt at putting the free press "back in the box."
One big danger is the financial precarity of "traditional media" in an era of tweets and social media posts aimed at instant delivery of "news." Major media organizations are now in the market in ways and to extents they never were before, and special interests are primed to win a piece of mainstream reality—sometimes more than to deliver unbiased journalism. We see this at every level, whether it be the Washington Post passing out of the hands of the Grahams into the hands of Jeff Bezos—one of the world's richest businessmen—or the possible sale of the Inquirer media and publishing complex here at home. So far, while it seems these particular changes in ownership have only lightly impinged upon press freedom, there are more egregious examples.
At the intersection of rising authoritarianism and a neoliberal drive for deregulation, we also see very real threats from various monopolies. Instead of the old Marcos-style state takeover of the press, we now see the growing international inroads of the Murdoch press empire (which includes Fox News), reduced regulation allowing Sinclair Broadcasting's buyouts of local TV stations all over the US, and the very internet itself coming under the control of less than a handful of corporate giants. The Philippines, of course, is not immune to such trends.
Regulatory dangers abound here too: for instance, Rappler stands at a precipice, fighting in court for its existence in a situation that would more traditionally have been treated as an administrative matter. ABS-CBN remains uncertain whether it will be able to renew its license to operate. While both continue to produce journalistic output day by day, hour by hour, the challenge they face points to yet another danger in today's press environment. All over the world, leaders are denouncing media organizations and even individual journalists from their offices of power. Genuine quality reporting is being dismissed as "fake news" for purely agenda-driven reasons and many leaders obfuscate and lie outright in situations where, because of their positions, journalists must report. At the other end of the spectrum, actual "fake news" continues to proliferate widely, with journalistic standards going down the world over.
Despite the cognitive dissonance of having to report both factual scenarios and counterfactual responses, free journalism in the Philippines continues to seek and find ways to "speak truth to power" in ways the public can understand. The free press remains free precisely because you journalists and your media organizations face the dangers that have earned us our unenviable position on the CPJ's Global Impunity Index. We are proud of our journalists and their work—and are concerned about any issues that affect their safety.
Last month, the Presidential Task Force on Media Security (PTFoMS) launched a handbook to provide media professionals with precautionary measures to ensure their safety during coverage. This is a very welcome development; one layer of security among many that we have to set in place.
Without our journalists and media professionals, this handbook would not have been possible. In our midst are steadfast advocates for press freedom and symbols of a long fight for democracy. Without clamor from the ground, there would not be a single effort to produce clear guidelines for the industry. We pay tribute to the journalists who lost their lives in service of the country, and the most that we can do for them is to ensure that the next generations will enjoy the benefits of the free flow of information under, as much as possible, safer conditions and circumstances.
There is still much to be done. We are grateful for the Office of Undersecretary Joel Egco of PTFoMS. They have been hard at work, reconciling the concerns of our media men and women with the work that the government is doing. As a representative of the government myself, I know that such a task presents overwhelming, and sometimes, never-ending challenges. Nonetheless, we work with what we have, bridge the gaps that we encounter, and ensure that the concerns of the grassroots figure in our projects and activities.
A free press is fundamental to Philippine democracy and is a pillar of UNESCO itself.
Our office, the UNESCO National Commission of the Philippines (or UNACOM), will continue to fight for press freedom and media safety. It is our ultimate goal for the UN Plan of Action on the Safety of Journalists to be effectively implemented in the Philippines. This conference is an important step in crafting the Philippine action plan.
Thank you, more power and mabuhay kayong lahat!