The German Commission for UNESCO, in cooperation with the Philippine National Commission for UNESCO (PH NatCom), Leuphana University of Lüneberg, and BASF Stiftung, launched the Student Training for Entrepreneurial Promotion (STEP) Programme at the Bicol University (BU) on 14 November 2018 in the Philippines.

STEP aims to equip university students in multi-disciplinary backgrounds with the relevant entrepreneurial and soft skills to effectively set up and manage businesses in their respective communities and increase their employability. With a strategy to select and support developing countries across the globe, STEP has until now been implemented in ten countries, including Kenya, Uganda, and Mexico.

BU, the largest state university in the Bicol region, will benefit from STEP's intensive, hands-on, and skills and research-oriented training approach. Trained BU staff and faculty members by Leuphana University will further conduct training of approximately 700 students within three years of project implementation. Anchored on local and international contexts, the STEP will also be a unique platform for the educators from BU to weave their knowledge and practices to the further enhancement of the programme and to support students in their route to being changemakers.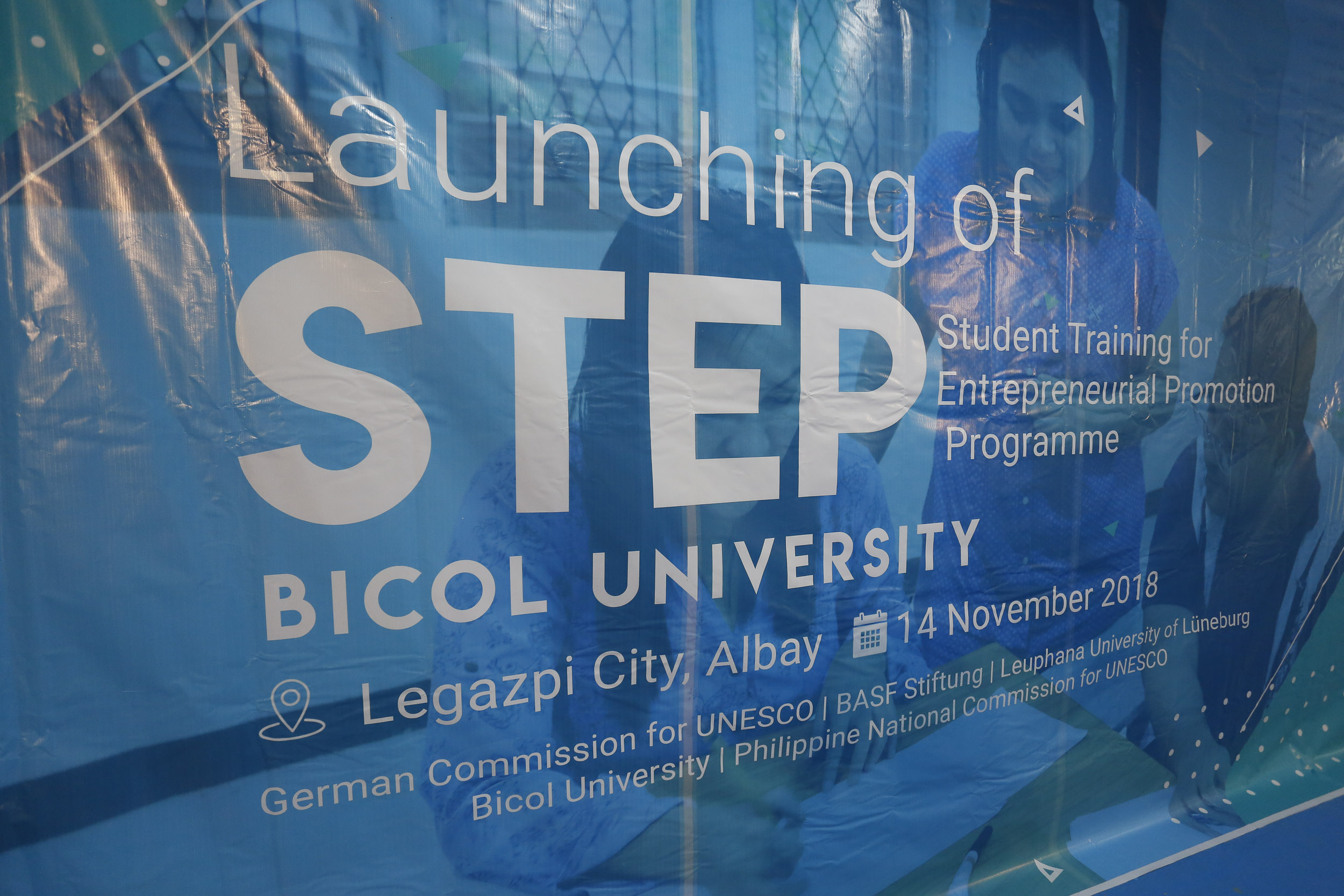 Dr. Lutz Möller, Deputy Secretary General of the German NatCom for UNESCO, underscored that one of STEP's salient features is fostering ownership of the partner countries through institutionalization the skills transfer approaches in local universities.

During the launch, BU President Arnulfo Mascariñas expressed his appreciation to the partners for bringing STEP to BU. He was glad that the BU is the pioneering institution for STEP implementation in the Philippines. According to him, the programme, which goes beyond a theoretical approach to entrepreneurship, is necessary in producing productive and self-reliant citizens who can create opportunities for employment and thus participate in nation building.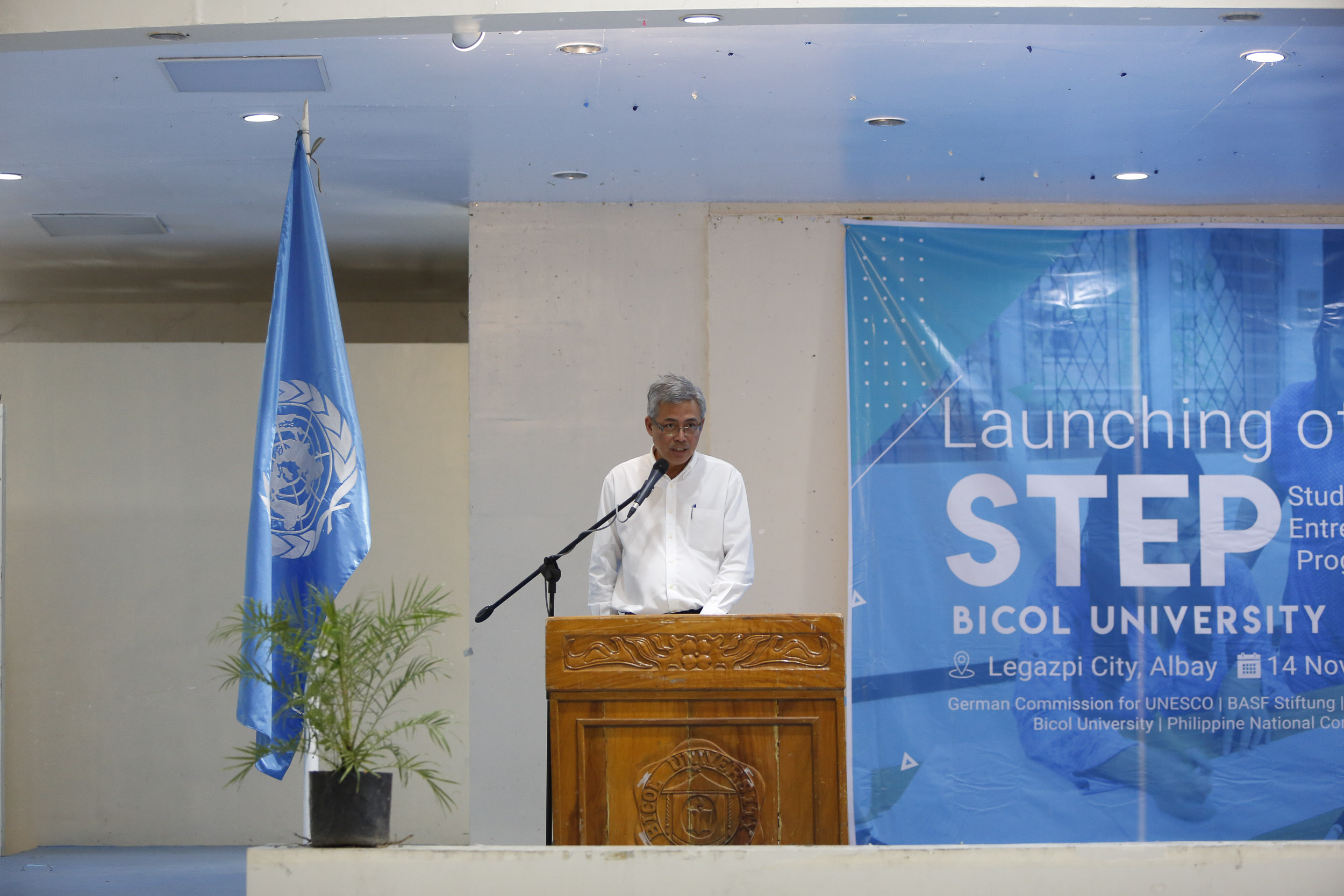 Two hundred students, trainers/faculty, and several officials of BU together with officials from the Department of Education (DepEd), Commission on Higher Education (CHED), Technical Education and Skills Development Authority (TESDA), PH NatCom, the German Commission for UNESCO and the Provincial Government of Albay took part in this pioneering programme launch.
DepEd, CHED, and TESDA acknowledged STEP's potential contribution to the country in terms of enhancing the potential of university graduates to create jobs, other than be absorbed in the currently available jobs in the labor market. The trifocal education agencies support the German and Philippine National Commissions for UNESCO in their collective goal of mainstreaming or integrating the training content into the country's curriculum on entrepreneurship and sharing STEP with national and local stakeholders.

Mr. Florian Schmitt, Programme Specialist of the German NatCom for UNESCO, shared that "The STEP that was originally developed by African and German scientists more than ten years ago, has proven to be an exceptional training to foster entrepreneurship among education institutions worldwide. Besides the conduct of the training, the ambitious long-term goal of STEP is to integrate the training content into the institutional plan of the university after a joint implementation period of three years. This has been achieved in almost all previous STEP projects – and I am very confident that we will achieve this here at Bicol, too."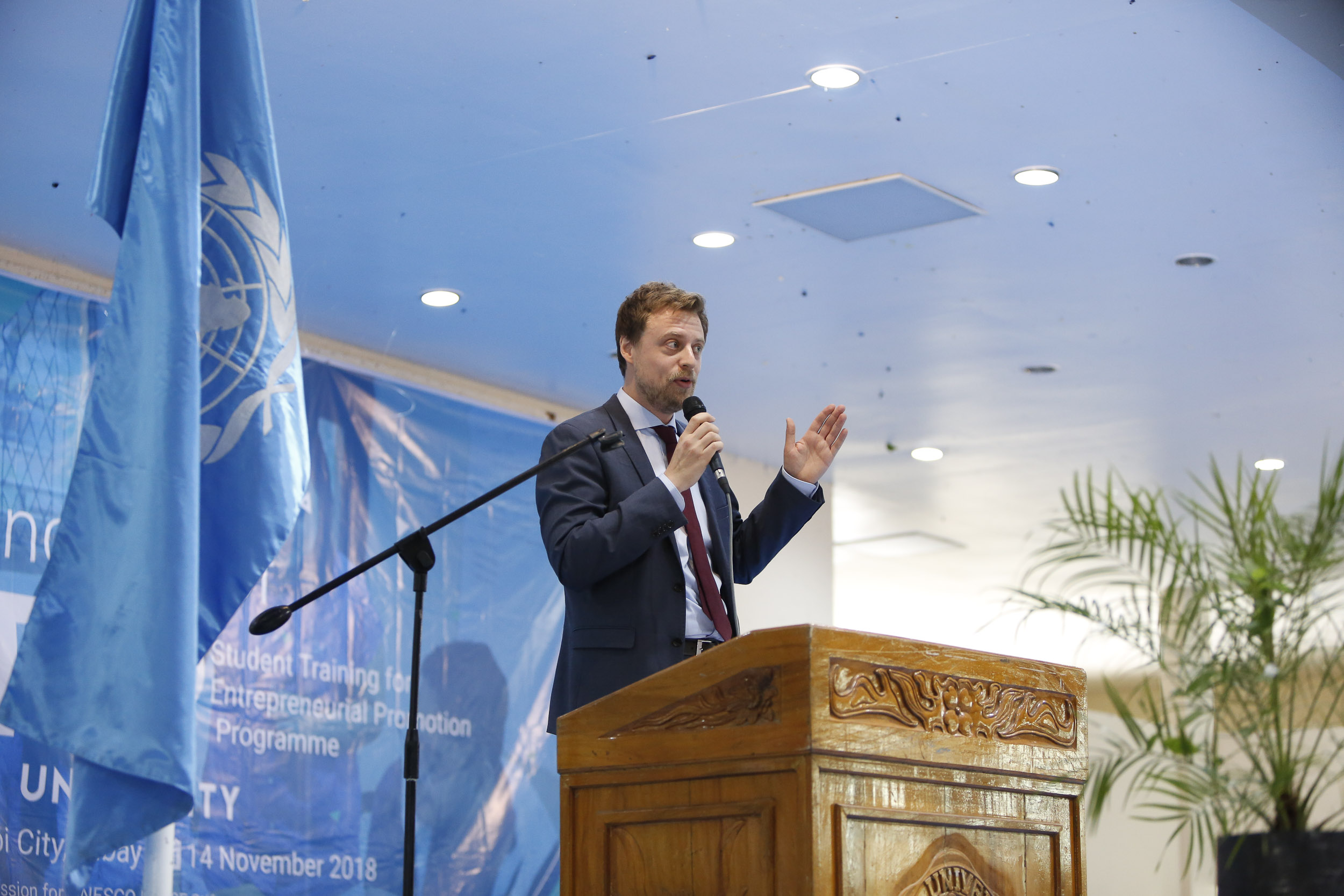 Ms. Lindsay Barrientos, Deputy Executive Director of the PH NatCom, said that the program offers a great opportunity for young people to explore alternative career pathways while in undergoing academic studies, and after graduation. According to her, PH NatCom strongly supports the implementation of STEP as it contributes to fulfilling the SDG targets of PH. She also stressed its potential to cultivate grassroots approach in addressing unemployment, one of the pressing issues in the country.

The Philippines has recorded 5.4 unemployment rate as of 2018, according to the Philippine Statistics Authority. While this rate represents an improved data compared to previous years, the country also records high underemployment rate at 17.2%, translated into the number of people who have to work more hours in their present job, and have to be engaged in other jobs, for longer hours, in addition to their current employment to make ends meet.
BASF Stiftung was represented by BASF Philippines' Michelle Santos, Manager for Corporate Affairs, who underscored the role of students as changemakers who can create positive impact on the bigger communities around them.
Dr. Eddie See, Dean of the BU College of Business, Economics and Management introduced this year's certified STEP trainors namely: Ms. Mary Anne Ansano, Prof. Cherry Ann Aranas, Prof. Cristina Ballesteros. Ms. Maria Crestia Bañares, Prof. Mar Belgica, Prof. Sheila Desuyo, Prof. Danes Derick Dolz, Prof. Krizza Angela Grebialde, Prof. Joy Lawenko, Prof. Ronnel Madraso, Prof. Geniva Nario, Prof. Ged Eduard Narvaez, Prof. Analiza Pabilona, and Prof. Jasmin Jane Salazar.