The UNESCO National Commission of the Philippines (UNACOM) and the Baguio Arts and Crafts Collective, Inc. (BACCI) installed the second session of the webinar series, Creative Talks: Design-led Creative Thinking for Our Everyday Life. UNACOM Deputy Executive Director Lindsay Barrientos opened the session through her message about the importance of continuing dialogue efforts in protecting heritage and culture while fostering creative industries such as the first session on ethnographic mapping of creative assets of Baguio City. She emphasized its value in further improving Baguio's capacity as a UNESCO Creative City that has become a space for lifelong learning, cross-cultural sharing, innovation and development of crafts and art forms.
With the title, The Future is Handmade: Product Design and Craftmanship in the Digital Age, the session's resource person Professor Monica Gayle Alcudia, Manager of the FabLab at the University of the Philippines Cebu, opened the conversation about integrating technology in traditional craft-making through innovative approaches. Prof. Alcudia opened the discussion about the perceived and actual tension between traditional crafts and technology. She shared that the seemingly antagonistic relationship between the two can be harnessed to gain a better understanding and also advance traditional designs. She shared her knowledge about the FabCraft Movement in South America that  have helped local designers streamline their design processes, through the use of modern technologies such as 3D printers and laser cutters. According to her, this nexus is yet to be explored in the Philippine creative industries. In conclusion, she echoed the encouraging words of Javier Sanchez Diaz de Rivera: "the language of technology and traditional crafts have different grammar and meanings; there is a need to provide more platforms for these two to dialogue and find common understanding."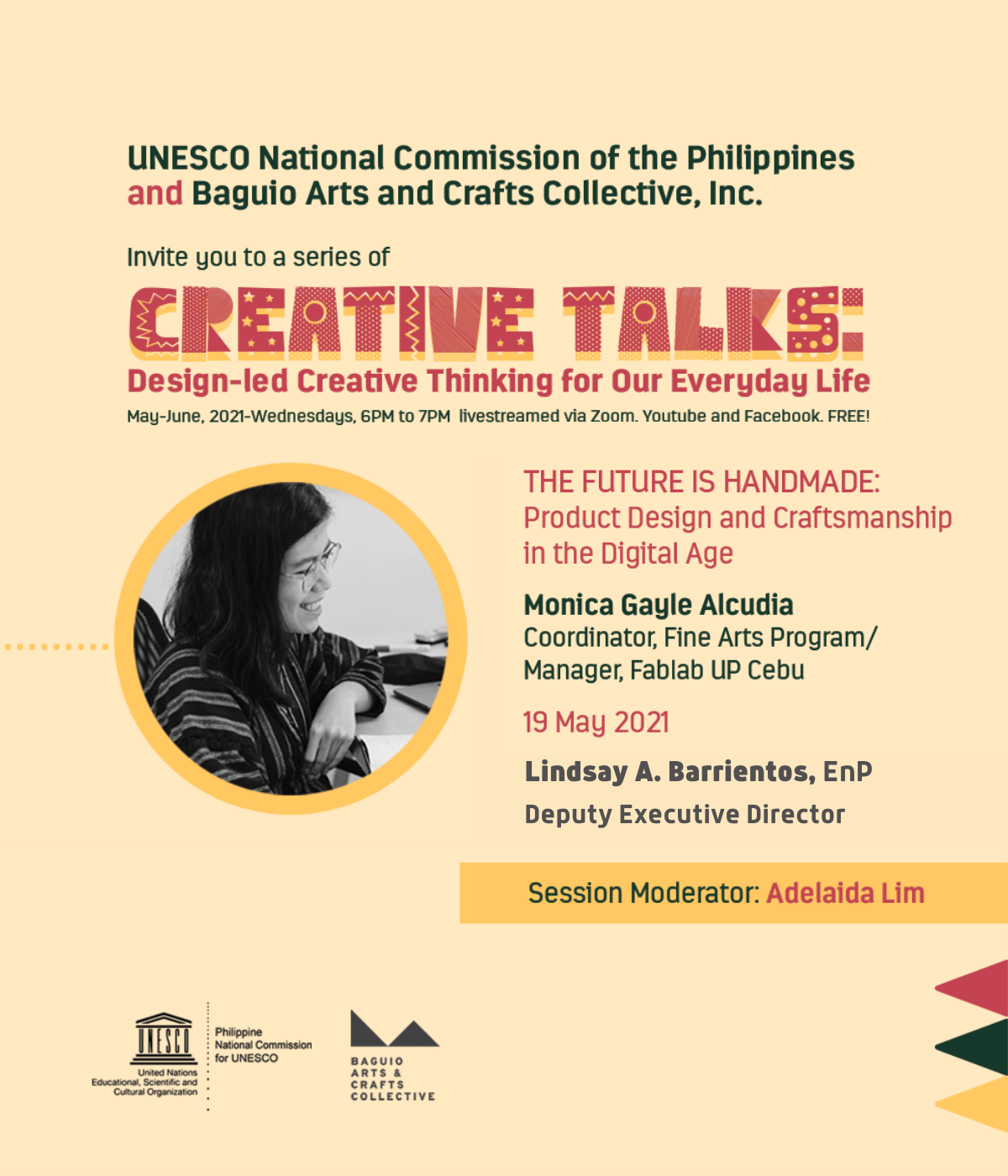 BACCI Board of Directors member Adelaida Lim moderated the session.