Karunungan Festival
The Annual Karunungan Festival is the flagship project of the Social and Human Sciences sector. It introduces emerging methods in the teaching of the social sciences and the humanities at the basic level. It features lectures and presentations by known experts on given themes and topics, such as philosophy for children, global citizenship education, and ethics.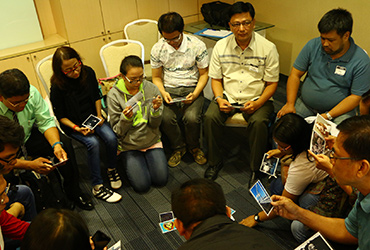 Management of Social Transformations
UNESCO's Management of Social Transformation (MOST) Programme encourages the development and use of the social sciences to better understand and respond to social transformations. To this end, MOST aims to build efficient bridges between research, policy and practice through networking and international cooperation.
At the international level, the programme is directed by the MOST Intergovernmental Council (IGC), which decides on overall policy and identifies priority areas of research. The Philippines, as represented by the Permanent Delegate to UNESCO, is a member of the IGC until 2017. At the national level, the Philippines will set up a national committee in 2017 to strengthen local social science research capacities and to serve as a platform for dialogue among policy-makers, the scientific community and civil society.
In the past, PH NatCom has worked closely with research institutions, such as the Philippine Social Science Center, to consolidate the work of local social scientists and to bridge them with UNESCO international experts. Because of the Philippines' engagement with MOST, the Philippine Migration Research Network was established in 1996.
Anti-Doping in Sport
As the UN's lead agency for Physical Education and Sport, UNESCO provides assistance and guidance to governments and the global sporting community to debate the evolving challenges in sports. UNESCO, together with the World Anti-Doping Agency, facilitated the development of the first global anti-doping legal instrument, the 2005 International Convention Against Doping in Sport. It encourages member states to create anti-doping education and prevention programs for the youth in their respective countries to inculcate the value of playing clean and fair sports.